Objekte, Skulpturen, Automaten, Schattenarbeiten
objects, sculptures, machines, shadow works
---
Objekt "Rückversicherung", 2022
object "reinsurance", 2022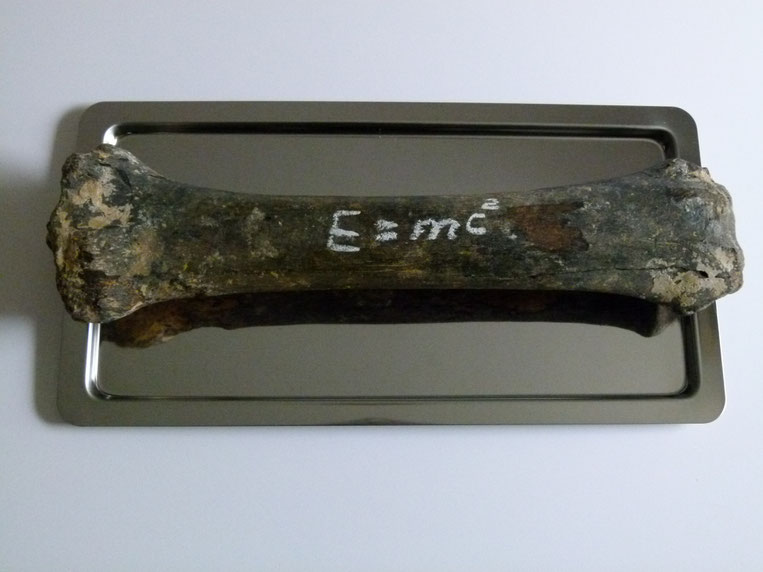 "Rückversicherung", Tablett, versteinerter Mammut Knochen, Kreide
"reinsurance", tray, petrified mammoth bone, chalk 
---
Objekt "Diva", 2020
object "Diva", 2020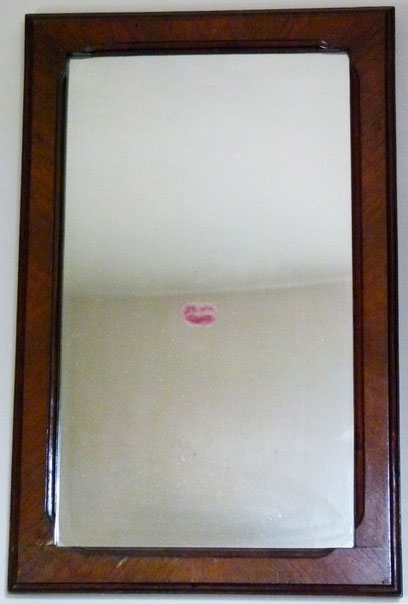 "Diva", Spiegel mit Holzrahmung, Lippenstift
"Diva", mirrow with wooden frame, lipgloss
---
Objekt "Treibsand", 2019/ 2020
object, "quicksand", 2019/ 2020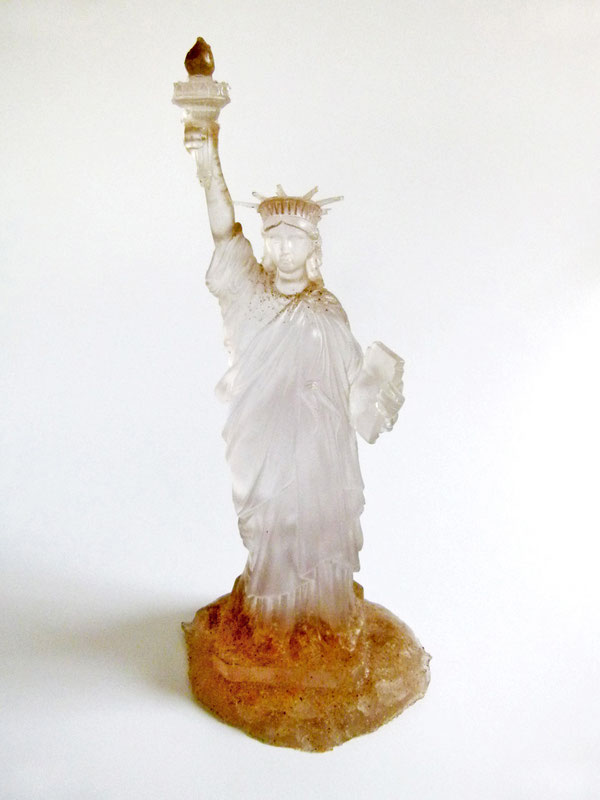 " Treibsand", crystal clear und Sand
"quicksand", crystal clear and sand
---
Kinetisches Objekt, " Mein Herz wenn es an dich denkt", 2012
kinetic object, " my heart thinking on you", 2012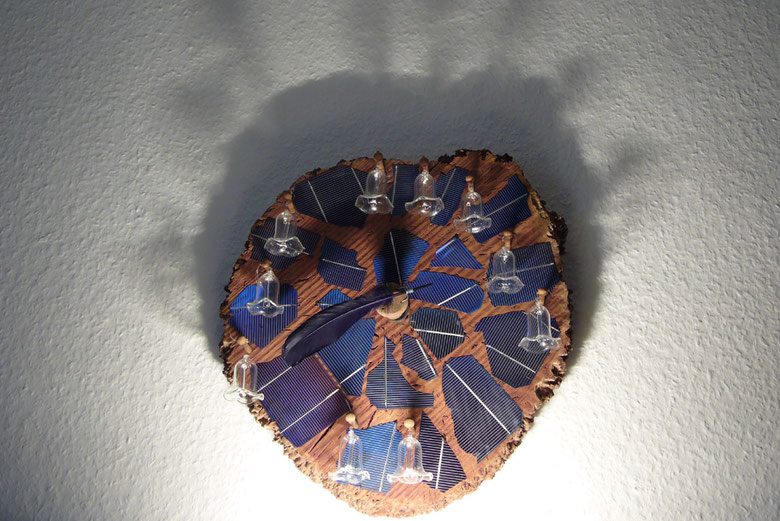 " Mein Herz wenn es an dich denkt", kinetisches Objekt, angetrieben durch Sonnenlicht stößt die schwarze Feder die kleinen Glasglöckchen an und bringt sie zum klingen. Elektromechanische Ausführung durch den Mechatroniker Meister Herr Holger Günther.
"My heart thinking on you", kinetic object, moved by sun light the black feather hits onto the little glass bells and makes them clink. Electromechanical realization by the mechatronical master Holger Günther. 
---
Objekt "Human Recource", 2011
object "human recource", 2011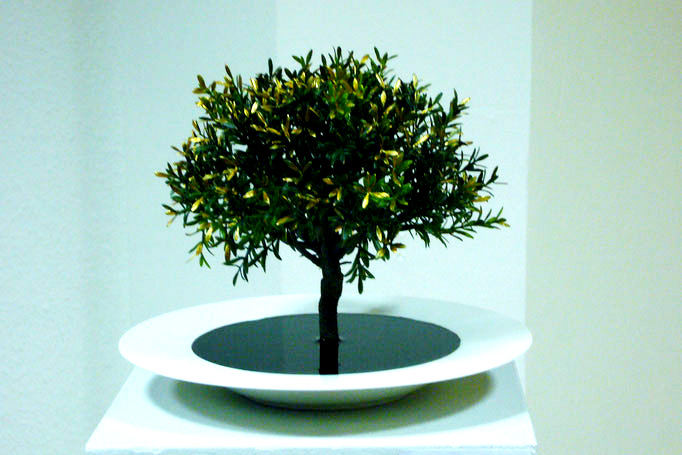 Ausstellungsansicht "Human Recource", Porzellan Teller, Plastikbaum, Altöl
exhibition view "human recource", porcellan plate, plastic tree, old oil
---
Skulptur "Balance"
sculpture "balance"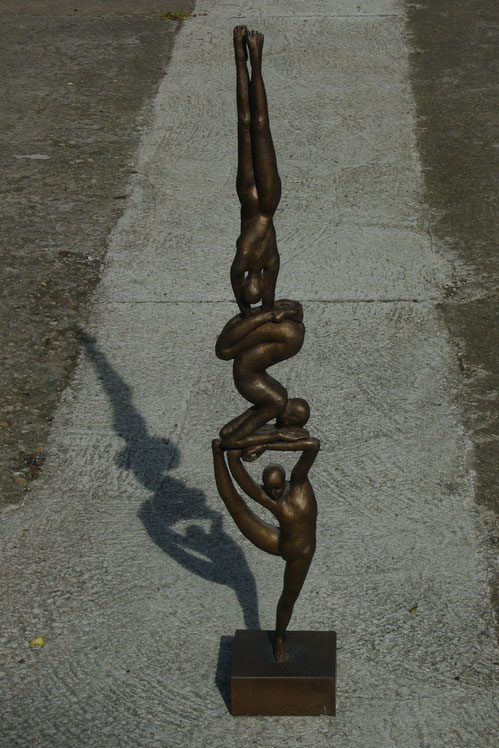 Skulptur " Balance", in Bronze, limitierte Auflage 19 Exemplare, signiert, nummeriert, erhältlich bei ars mundi, Edition Max Büchner GmbH
sculpture "balance", in bronze, limited edition 19 samples, signed, numbered, available from ars mundi, Edition Max Büchner GmbH
Auszug aus dem Text von Lars Lindenboom: "Über die Androgynen in den skulpturalen Arbeiten von Antje Lindner": 
In vielen Mythen über die menschliche Schöpfung werden die menschlichen Wesen als androgyn beschrieben.  Zum Beispiel gibt es in der hinduistischen Götterwelt eine zweigeschlechtliche Figur, Ardhanarishvara, die aus Shiva und seiner Frau Parvati besteht. Auch in der persischen Mythologie lebte das erste Menschenpaar im Garten Eden in einem Körper, Licht und Dunkel, bis Ahura Mazda sie voneinander trennte. Der Prometheus der griechischen Mythologie formte den Menschen androgyn aus Lehm und erst der Göttervater Zeus trennte sie in zwei Wesen.  Der männliche Persönlichkeitsanteil und der weibliche Persönlichkeitsanteil wird in der Psychologie beschrieben – sind diese absolut ausgeglichen wird von Androgynen gesprochen. In der Umgangssprache meint man auch Menschen damit, die nicht eindeutig einem Geschlecht zugeordnet werden können, entweder, weil sie sich selber nicht so definieren, oder von anderen so wahrgenommen werden.
Lindner bezieht sich in ihren androgynen Menschen ebenso auf diese Aspekte, als auch fokussiert auf einen Zustand, der in der embryonalen Entwicklung eines jeden Menschen auftritt, nämlich das Stadium, in dem das spätere Geschlecht des Menschen noch nicht entschieden ist, sich in der embryonalen Entwicklung erst ausformt. Dies sieht Lindner als den kleinsten gemeinsamen Nenner wirklich aller Menschen. Sie stellt also bewusst den Menschen an sich in ihren Figurenformationen dar mit all den möglichen Zuständen der Seele und des Körpers, die alle Menschen betreffen können.
Excerpt from the text by Lars Lindenboom: " About  the androgynes in the sculptural works of Antje Lindner":
In many myths about human creation, human beings are described as androgynous. For example, in the Hindu world of gods there is a bisexual figure, Ardhanarishvara, which consists of Shiva and his wife Parvati. Also in Persian mythology, the first human couple in the Garden of Eden lived in one body, light and dark, until Ahura Mazda separated them from each other. The Prometheus of Greek mythology formed man androgynous from clay and only the father of the gods Zeus separated them into two beings. The male personality percentage and the female personality percentage are described in psychology - if these are absolutely balanced they are called androgynous. In colloquial language, this also refers to people who cannot be clearly assigned to one gender, either because they do not define themselves that way, or because they are perceived as such by others.
Lindner, in her androgynous humans, also refers to these aspects, as well as focusing on a state that occurs in the embryonic development of every human being, namely the stage in which the later sex of the human being has not yet been decided, is only formed in the embryonic development. Lindner sees this as the lowest common denominator of really all people. She therefore consciously depicts the human being as such in her figure formations with all the possible states of the soul and the body that can affect all human beings.
---
Skulptur "Fußbaum", 1995
sculpture "tree of feet", 1995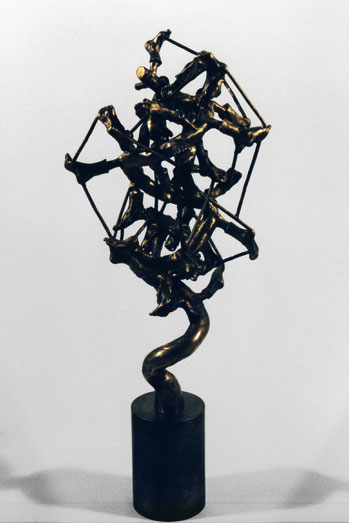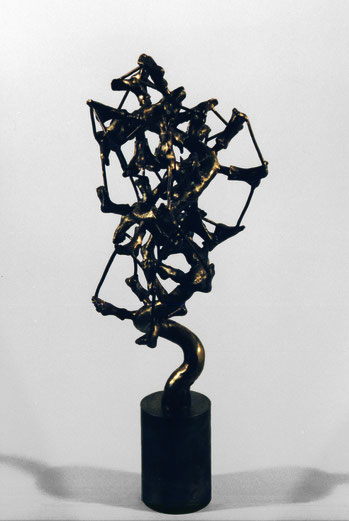 Skulptur "Fußbaum", in Bronze, jedes Stück ist ein Unikat, da es durch die komplizierte Form nicht reproduzierbar ist, sondern eigens gefertigt wird.
sculpture "tree of feet", in bronze, each piece is a unicum therefore because of its complicated structure it is not reproducible, but sculptered each.
---
Skulptur o.T., 1996
sculpture o.T., 1996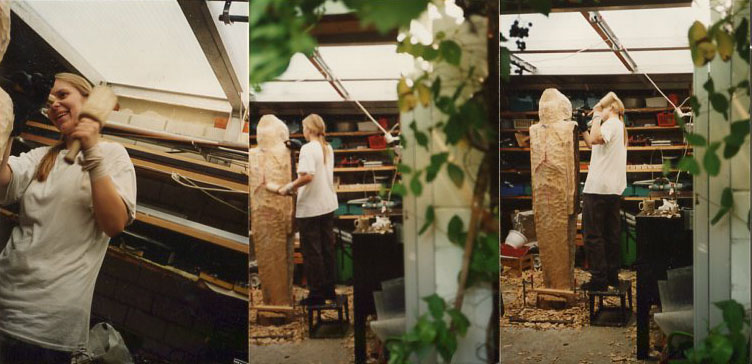 Skulptur o.T., Lindenholz
sculpture untitled, lime wood
---
Abschuldungsautomat, 1997
guilt freeing machine, 1997
making of, Formen des Kopfes aus Ton
making of, forming the head out of clay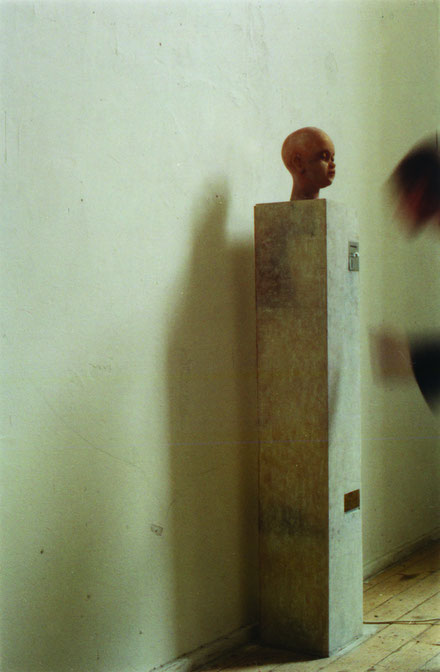 "Abschuldungsautomat", der Betrachter kann eine DM in den Geldschlitz einwerfen über dem "Abschuldung" steht. Daraufhin fängt ein Licht an zu leuchten und der Kopf weint in verschiedenen Stärken. Am Ende des Vorgangs bekommt der Betrachter seine DM wieder zurück.
"guilt freeing machine", the visitor can put a DM piece into the coin slot above which the words "guilt freeing" is printed. Then a light brightens up and the head starts to cry in different strength. At the end of this process the visitors receives back his coin.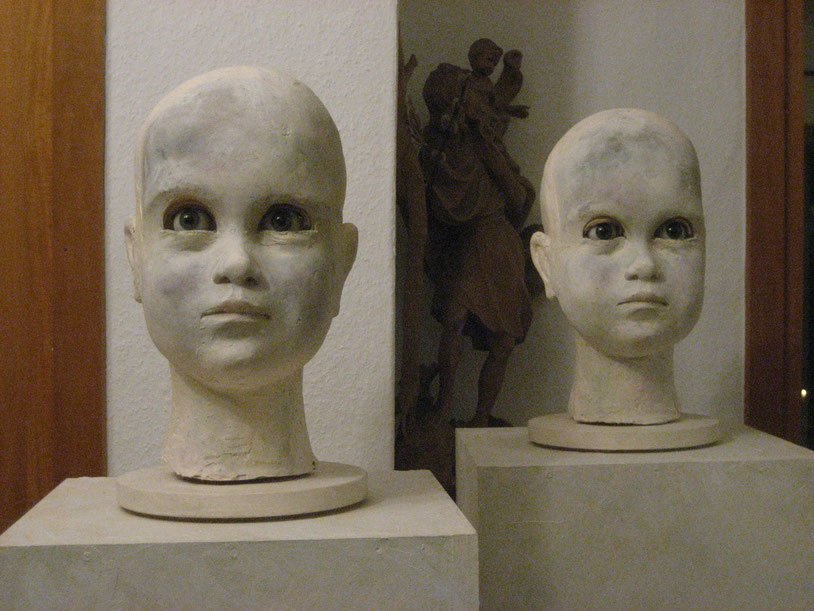 Die Bilder der Entstehung der Serienreife 2007 . Der "neue" Abschuldungsautomat funktioniert mit 1 Euro. Die technische Entwicklung der mechanischen Lösung statt der ursprünglichen elektronischen Lösung wurde in Kooperation und von Jörg Loose entwickelt; siehe auch          www.atelierloose.de und www.koesk-muenchen.de.
The pictures of the readiness to go into production  of 2007 . The "new"  guilt freeing machine works with 1 euro. The technical development of a mechanical solution instead of the original electronic solution was done in cooperation and by Jörg Loose; see www.atelierloose.de and  www.koesk-muenchen.de.
Bilder/ photography by Jörg Loose
---
"An den Wänden der Höhle sind nur die Schatten die Wahrheit"
"On the walls of the cave, only the shadows are the truth." 
( Platon, Höhlengleichnis, Der Staat, Buch VII)
(Plato, The Allegory of the Cave, Republic, Book VII)
Schattenarbeit "Hoffnungsträger", 1996
shadow work "bearer of hope", 1996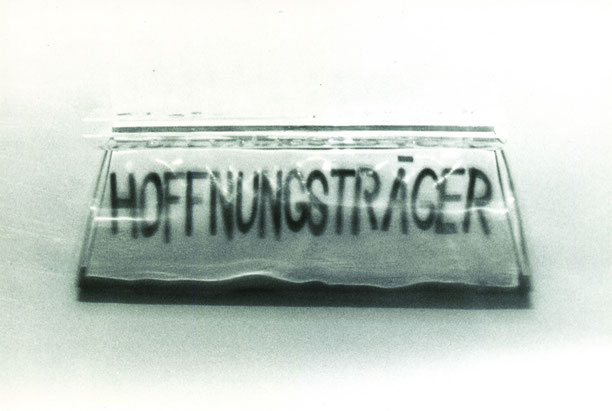 Schattenarbeit "Hoffnungsträger", Acrylglas, Modell für eine Kunst am Bau Skulptur, die mit dem Lichteinfall der Sonne arbeitet. Nur bei einem bestimmten Lichteinfall fügen sich die zerlegten Buchstaben im Schatten lesbar zu dem Wort Hoffnungsträger zusammen.
shadow work "bearer of hope", acrylic glass, model of a art in public work that works with the specific angle of light of the sun. Only with a specific angle of light the devided parts of the letters become readable in the shadow and form the words bearer of hope.
---
 "Schattenmann", 1996
 "shadowman", 1996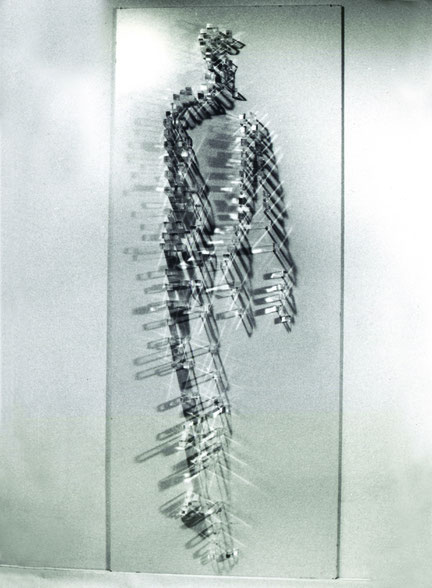 "Schattenmann", Acrylglas auf Platte, Modell für eine Fassadenarbeit, die mit dem Lichteinfall der Sonne arbeitet. Je nach Lichteinfall verändert sich das Bild, das der Betrachter sieht. Nur in einem bestimmten Lichteinfall ist eine aus der Wand schreitende Figur zu erkennen.
"shadowman", acrylic glass on wooden plate, model for a house front that works with the light of the sun. In each light angle the picture changes for the visitor. Only with a certain angle of light there becomes a person walking out of the wall visible.
---
Schattenspiel, 1996
shadow game, 1996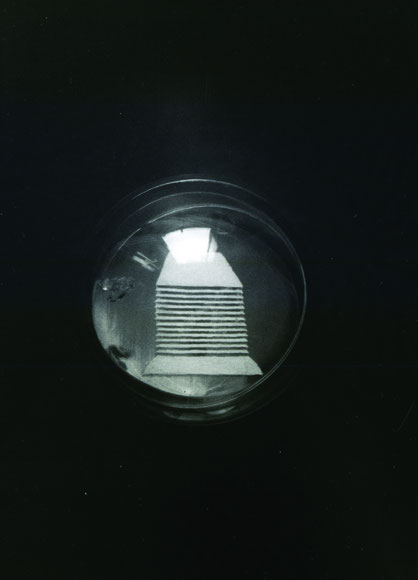 "Schattenspiel": Eine kleine Kugel wird von einer größeren Kugel umschlossen. Beide sind um eine feste Bildebene, die sich im Inneren der kleinen Kugel befindet, beweglich gelagert. Wer damit spielt, kann die Kugeln einzeln oder zusammen drehen und so die Schattenfiguren agieren lassen.
"shadow game": a small ball is sourrounded by a bigger ball. Both balls are movable based around a fixed pictureplate that is based in the inside of the small ball. Who plays with it can turn the balls singularily or synchrone and through that move the shadow figures.
---